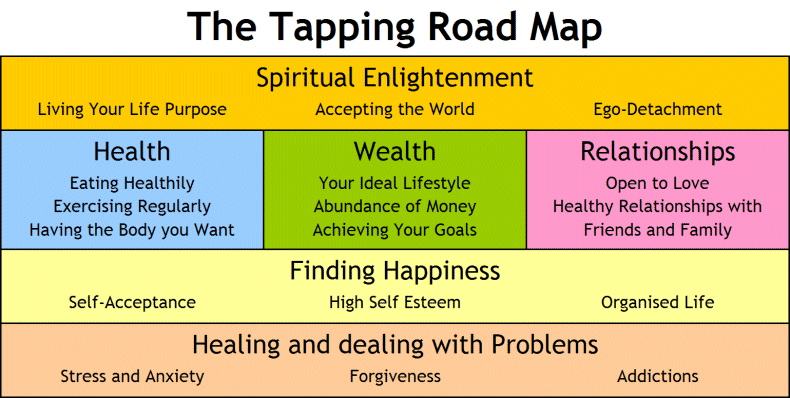 The Tapping Road Map
The Road Map shows you where you are, and what you might tap next. All the goals on the road map are achievable with Tapping as a tool.
The milestones are usually tackled starting from the bottom up, but they are really in no particular order. There is also a great deal of overlap - they are all interconnected.
There are worksheets and further discussion of the milestones in my e-book, Tap Yourself Free.
Featured Articles
When Positive Thinking Doesn't Work
Nothing gets blasted more in the self-improvement industry than 'Positive Thinking'. The cynical among us are quick to point out that just believing in something doesn't make it true, and even the most optimistic optimist will concede that they don't always take Positive Action based on their thinking.
Tired and Hungry
Ever feel tired or hungry even though you just ate and had plenty of sleep? Let me tell you about a little trick your body sometimes plays on you - let me introduce you to FakeTired and FakeHungry.
Our Deepest Fear
Our deepest fear is not that we are inadequate. Our deepest fear is that we are powerful beyond measure.